Made For You by Lauren Layne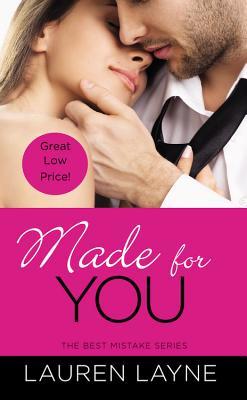 Some mistakes are worth making...
Lauren Layne's Best Mistake series continues with MADE FOR YOU.
When the Wrong Guy is Oh-So-Right
Will Thatcher is exactly the type of sexy playboy good girls like Brynn have always avoided. And yet there was still something about him she just couldn't resist. When Will moved across the country three years ago, Brynn vowed it was time to put him behind her. She never thought Will might have other plans . . . Back in town, Will intends to get what he's always wanted-gorgeous, unforgettable Brynn. For years, he tormented the untouchable ice princess in a desperate bid for her attention. Now he has a new plan, and he'll do anything to rewrite their stormy past. This time, he's out to show Brynn that the imperfect man might be the best mistake of her life .
. .
I
definitely
love reading Lauren Layne novels so much. she
definitely
knows how to write such great, funny romance series. She cannot disappoint us at all. You will always leave happy while reading any of her novels.
We get to read about Will and Brynn in Made for You. We got an introduction about Will and Brynn from the previous book, however, we get to know more about their story in this story. They both have been swoon
enemies
from high school that they never got along at all. However, they both have hidden feeling for each other but they hide their feeling. They both have some flaws and
insecurities
about each other and for each other that their relationship is a bumpy road. Their sexual tension is so steamy and intense that it makes the read so much more compelling to read.
Lauren definitely create yet another great story!