Wrapped in You by Kate Perry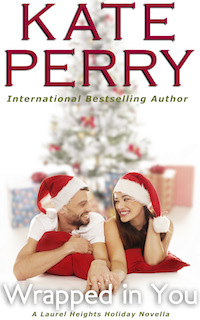 Trudy Hawke​ doesn't do holidays.
But ​she really wants a promotion - ​even if she has to face love, peace, and Christmas music.
Review:
Oh, I just love reading all of Kate Perry books! Kate Perry is a master in creating fantastic romantic stories that you will fall in love with the gorgeous characters. She truly did again when she wrote about Trudy Hawke in this Christmas novella. We have previous meet Trudy Hawke in the past book in the Summer Hill series. Trudy Hawke has been forced to celebrate the holidays in Laurel Heights by her boss. Trudy Hawke does not know how to embrace the holidays that she will get help from someone is very cute and charming. Both of them are very adorable together that you will just root for them to stay together. They may run into some problems but they will realize that they are meant for each other. Everyone will love reading this Christmas novella since it will get you into the spirit of Christmas.