Review (Giveaway): Manwhore by Katy Evans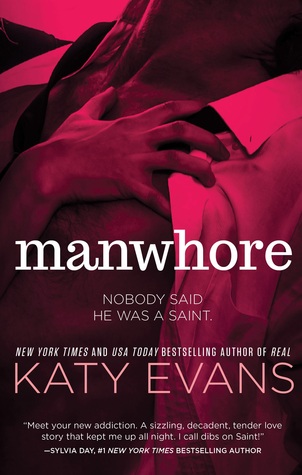 Is it possible to expose Chicago's hottest player—without getting played?
This is the story I've been waiting for all my life, and its name is Malcolm Kyle Preston Logan Saint. Don't be fooled by that last name though. There's nothing holy about the man except the hell his parties raise. The hottest entrepreneur Chicago has ever known, he's a man's man with too much money to spend and too many women vying for his attention.
Mysterious. Privileged. Legendary. His entire life he's been surrounded by the press as they dig for tidbits to see if his fairytale life is for real or all mirrors and social media lies. Since he hit the scene, his secrets have been his and his alone to keep. And that's where I come in.
Assigned to investigate Saint and reveal his elusive personality, I'm determined to make him the story that will change my career.
But I never imagined he would change my life. Bit by bit, I start to wonder if I'm the one discovering him...or if he's uncovering me.
What happens when the man they call Saint, makes you want to sin?
Review:
I am totally obsessed with Malcolm Saint that I totally devour the book from the first page. Katy Evans has done herself another great job in creating a sinful yet sexy read. Reader will not be disappointed when they start reading from the first page. I definitely understand how Rachel quickly fall with Malcolm Saint since he is totally sinful that no one can resist that bad boy charm. Rachel has been working hard for her career that she is a determined women throughout her career. She has so many walls in her persona that it definitely catches Saint attention because he never knows what to expect from Rachel. Rachel will have a hard struggle in maintaining her career and her relationship with Saint. As Rachel spends more days with Saint, she will quickly fall in love with him that she may lose if he discover her expose into him. Malcolm Saint has a private life that no one knows his true self. Rachel is the only one that been able to seen his true self. Malcolm Saint is the true sinful men that all reader will fall in lust with him. He definitely knows his ways with the women. Reader will definitely get hot and bothered when they read the steamy yet sinful sex scenes. All reader need to read Manwhore immediately. It is to die for.
Giveaway:
I am giving away a copy of Manwhore to a reader in order to enter they must:
-Comment the post, which include their name and email
-Follow me on twitter