Review: Searching for Beautiful by Jennifer Probst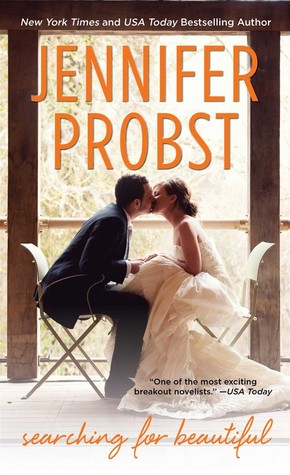 The highly anticipated third novel in the Searching For series fromJennifer Probst, "one of the most exciting breakout novelists" (USA Today), featuring a runaway bride and the man who wants to be more than just her best friend...
Genevieve MacKenzie has her life completely under control. About to wed the charming Chief doctor at the local hospital, she's an up-and-coming surgeon with everything she could ever want. Until an escape through the church window on the day of her wedding sends her life into a tailspin...and flings her right into her best friend's arms.
When Wolfe catches his best friend falling out a window on her wedding day, he doesn't ask questions. He whisks her away, determined to watch over her and discover the truth behind her desperate escape. But when his feelings turn more than platonic, he realizes he may risk his most important relationship in order to protect his damaged heart, and the woman he loves.
Can Genevieve and Wolfe's friendship turn into something deeper—or is it already too late for true love?
I just love reading Jennifer Probst books so much. She definitely knows how to write raw and romantically stories together. She has always known how to write amazing masterpiece in her past books and she has done it again! In Searching for Beautiful, reader will fall in love with Genevieve and Wolfe romance journey.
Genevieve is a gorgeous women who is a strong yet intelligent surgeon. However, she is having trouble with her self when she was about to marry her fiance. She has been having trouble to identify herself since her fiance has been emotionally abusing her that she finally realize it when she was getting ready to walk down the aisle. She decide to pull a runaway bribe and pull help from her best friend, Wolfe. I really admire Genevieve because she has the courage to identify what was wrong and pulling to fix what was wrong.
Wolfe has always been the sexy men to walk on earth that he immediately knew something was off of Genevieve relationship. He has always been supported of Genevieve that it was no problem to help her to runaway from her wedding. I truly love how Wolfe character is because he truly care for Genevieve.
They have unexpected attraction for each other that it makes totally sense to have passionate love together. However, things will be complicated for them because they both have baggage. It will be a challenge for them but their love is worth a lot to make it together!