Review: Fatal Consequences by Marie Force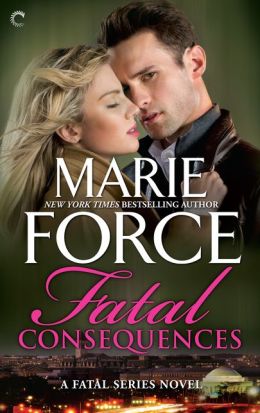 Politics can be murder...
Lieutenant Sam Holland has no sooner accepted Senator Nick Cappuano's proposal than she's back on the job. A woman has been found brutally murdered and evidence points to Henry Lightfeather, a senator and close friend of Nick's. While Sam investigates, Nick stands by his friend--complicating his own bid for reelection, and causing tension between the couple.
As Sam's investigation reveals a scandal that rocks the capital, Nick and Sam discover that the biggest threat to their future might be someone from her past....
Includes the bonus novella
Fatal DestinySee how it all began for Sam and Nick in Fatal Affair
Force pushes the boundaries to create an intricate mystery.
RT Book Reviews, 4 stars, on Fatal Consequences
Book Three of the Fatal series from
New York Times
bestselling author Marie Force.
Oh, Marie Force definitely knows how to write a kick-ass suspense yet romance story! She has created another best-seller of Fatal Consequence that the reader will become addicted to Marie Force works. Fatal Consequences has so much love and action that it makes a perfect read for the day. Readers will continue their journey with Sam and Nick when one of their close friend is an suspect in a murder. Sam is still a beautiful yet ballsy women that she capture Nick heart and becoming Miss soon. Their relationship is strong as ever but there will be come complication that it will test their relationship. Reader will be emotional when they see their favorite couple fight and argue but it will get better for them. Their relationship get bumpy when another hot case involve both of them. The murder case gets complicated and more twisted that the reader will be captivated to find out who is behind all of these murder. Marie Force has created another wonderful yet thrilling read that the readers will love every page of it!