Review: Best of My Love by Susan Mallery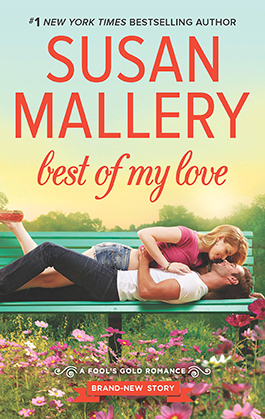 An irresistible new love story from the #1
New York Times
bestselling author of the Fool's Gold series, set in a town
Library Journal
calls "so appealing, readers will want to start scoping out real estate."
To overcome her painful past, baker Shelby Gilmore goes on the hunt for a friend—a
male
friend—to convince her stubborn psyche that men can be trusted. But where in a town as small as Fool's Gold will the petite blonde find a guy willing to
not
date her?
Dark, charming Aidan Mitchell puts the "adventure" in Mitchell Adventure Tours…and into the beds of his many willing female tourists. Until he realizes he's inadvertently become
that
guy—the one-night Casanova—and worse, everyone in town knows it. Maybe Shelby's boy/girl experiment will help him see women as more than just conquests so he can change his ways and win back his self-respect.
As Aidan and Shelby explore the secret lives of men and women, the heat between them fires up the Fool's Gold rumor mill. If no one will believe they're just friends, maybe they should give the gossips something to
really
talk about!
Everyone need to read Susan Mallery romance titles because they are amazing read that it will warm your heart! Susan Mallery had wrote another fantastic romance read with Best of My Love. Best of My Love will starts off with Shelby Gilmore and Aidan Mitchell.
Readers have read about Shelby Gilmore and Aidan Mitchell before that you know it is going to be a juicy adventure for them. Shelby Gilmore is a beautiful women that she runs a successful business in recent years. While she has her career together, she is definitely having problems with her personal life because she is extremely shy around men. She has faced a terrible childhood that makes her shy around men but she is determined to get out of her shell. She realized that she would need help with being comfortable around men that she listed Aidan as her helper. Aidan is sexy men that he is no shy around women at all. But lately he realized that he needs to change his ways because he does not want to be known as the one night stand guy. Aidan definitely needs to helps with his problem that Shelby can help him as he helps her with her problem.
They will begin their journey as friends but as they spend more time together, the more they really like each other. They both have chemistry for each other that it makes it more perfect for them to be together. Aidan is super sweet around Shelby that he wants change himself for his better self and for her too. Shelby is more comfortable with Aidan because she will always feel safe around him. They do have a great friendship between them that it will take no time for them to be together as they should be.
Best of My Love is an amazing romance reads that it will catch your heart in no time. Definitely check it out. Four Stars.