Review: The Darkest Torment by Gena Showalter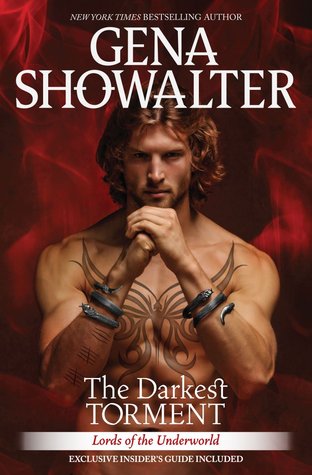 Driven to his death by the demon of Distrust, Baden spent centuries in purgatory. Now he's back, but at what cost? Bound to the king of the underworld, an even darker force, he's unable to withstand the touch of another...and he's quickly devolving into a heartless assassin with an uncontrollable temper. Things only get worse when a mission goes awry and he finds himself saddled with a bride—just not his own.
Famed dog trainer Katarina Joelle is forced to marry a monster to protect her loved ones. When she's taken hostage by the ruthless, beautiful Baden immediately after the ceremony, she's plunged into a war between two evils—with a protector more dangerous than the monsters he hunts. They are meant to be enemies, but neither can resist the passion burning between them...and all too soon the biggest threat is to her heart.
But as Baden slips deeper into the abyss, she'll have to teach him to love...or lose him forever.
Review:
Gena Showalter is the queen in writing fantastic paranormal romance books. She has always done amazing job in creating addicting storyline that everyone will love to read. And she has done it again with The Darkest Torment.
The Darkest Torment is about the fallen warrior, Baden that finally got back together with his warrior brothers. But things are not peachy in the underworld that it is going to be chaotic for everyone especially Baden.
Baden is such a sexy warrior that I want him for myself. Besides his sexiness, he is troubled because he is having a hard time in controlling himself that he wants to separate from his warrior brothers. But something unexpected happens when Hades recruit him to the underworld battle that he will be fighting for his life and someone else, Katarina.
Katarina is very intelligent women that she spends her life in rescuing animals since she has been drawn to them. But she is finding herself in a tough struggle that she will get involve with the underworld. She will struggle with Baden because she is stubborn women but she will get there with him.
They both have an attraction for each other but they both fight it since they have different agenda to achieve. But as you know you can't always fight fire which is Katarina and Baden.
The Darkest Torment is another great paranormal romance that you will want your own Baden. Five Stars.