Review: Always My Girl by Samantha Chase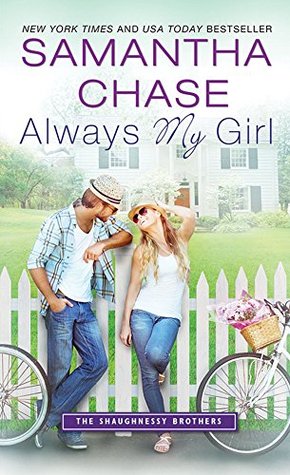 Book #3 in New York Times and USA Today bestselling author Samantha Chase's dazzling new series.


The Shaughnessy Brother you've been waiting for!
Sometimes the love that's closest to you is the hardest to see.
Quinn Shaughnessy's two older brothers have found their true loves … but Quinn's not about to join that parade. Nope, as he tells his best friend Anna, there's a lot more to life than getting tied down to one person. He's positive tomboy Anna will be on his side — except she's inexplicably developing other interests — even dating! Suddenly Quinn is seeing Anna in a very different light.
Quinn has been Anna's buddy since they were both five years old. She can tell him anything — except the one big secret she's been hiding for years — that she's fallen in love with him. Now Anna is determined to make a life for herself that doesn't include pining for Quinn. Falling in love with your best friend? Easy. Telling them how you really feel? Impossible.
Review:
Oh, who doesn't love reading Samantha Chase novels. I especially do since she write fantastic romance for family siblings. She can write stories for the siblings that they is no cliché at all.
Always My Girl is the third book in the Shaughnessy Brothers series. Every reader has been waiting for Quinn and Anna story for awhile that it has been delivered in Always My Girl.
Quinn has always been ladies man but lately it has change when he notices a lot of changes happening in his family especially his best friend, Anna. Anna has always been the best friend for Quinn bur she has deeper feelings for him that she needs to take action. She has started to change around Quinn that he starts to take notice.
Their relationship has been brewing for awhile that it has become explosive between them. They have hot attraction between them that they will burn the pages off. But things will come in rumbles between them that they will need to sort out if they want a relationship to last.
Always My Girl is the perfect romance between Quinn and Anna because it definitely demonstrate how strong love they have for each other. Five stars!