Review (Giveaway): Cream of the Crop by Alice Clayton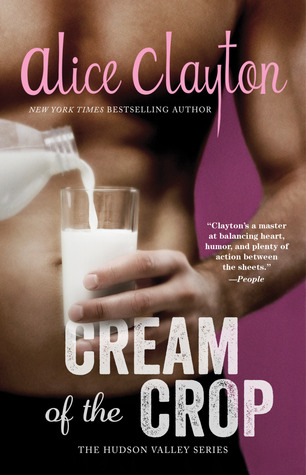 New York Times and USA TODAY bestselling author Alice Clayton brings her trademark blend of funny and sexy to this second contemporary romance in the brand-new Hudson Valley series!
Manhattan's It Girl, Natalie Grayson, has it all: she's a hot exec at a leading advertising firm, known industry-wide for her challenging and edgy campaigns. She's got a large circle of friends, a family that loves her dearly, and her dance card is always full with handsome eligible bachelors. What else could a modern gal-about-town wish for? The answer, of course, is...cheese.
Natalie's favorite part of each week is spending Saturday morning at the Union Square Farmer's Market, where she indulges her love of all things triple cream. Her favorite booth also indulges her love of all things handsome. Oscar Mendoza, owner of the Bailey Falls Creamery and purveyor of the finest artisanal cheeses the Hudson Valley has to offer, is tall, dark, mysterious, and a bit oblivious. Or so she thinks. But that doesn't stop Natalie from fantasizing about the size of his, ahem, milk can.
Romance is churning, passion is burning, and something incredible is rising to the top. Could it be...love?
Review:
Gosh, I just love reading Alice Clayton romance titles because she always know how to write the best hilarious yet romantic story. And she did it again with A Cream of the Crop which is the second book in The Hudson Valley series.
In the second book of The Hudson Valley series (A Cream of the Crop), reader will get to read about more of Natalie and Oscar. Natalie and Oscar have briefly met before in book one but reader will get to know more about them in A Cream of the Crop. Natalie and Oscar are very attracted with each other that they have strong chemistry but they are totally different people.
Natalie is a sexy yet intelligent women that she has no hardship with man since any man is instantly attract to her sexy confidenece. But she is different out of her world when she meets Oscar again. It is very different for Natalie whenever she is around Oscar because she is vulnerable in falling in love him which she is fun shy. It will take some thoughts for Natalie to trust Oscar since it ended horrible in the last time she let a man through her life. But Oscar is totally worth it!
Oscar is hot farm man that I want him for myself. But I will let Natalie have have him. He is very calm yet intense man that it makes no wonder why Natalie gets tongue tied. And he is definitely feeling the same way too. He is loving Natalie from all shape and wear but he is little too gun shy with commitment especially when his ex is around. But he will realize that Natalie is worth it since she is amazing women to have.
A Cream of the Crop is another fantastic romance title that you will be laughing your ass off while you tear up with all of the heartwarming emotions. Five Stars.
Giveaway:
I am giving a copy of A Cream of the Crop by Alice Clayton from my blog. Only US can enter. To enter, leave a comment with your name and email address, and also follow me through the blog Facebook and Twitter.
Facebook: Abigail Books Addiction
Twitter: Abigail Books Addiction