Review: For Better or Worse by Lauren Layne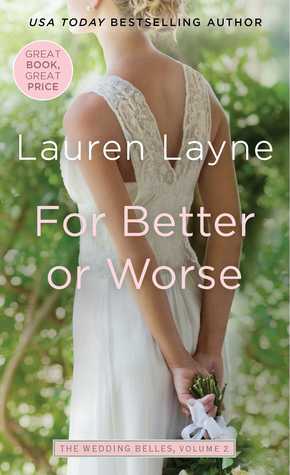 When small-town girl Heather Fowler finally gets promoted from assistant to
actual
wedding planner, she's determined to make it as one of Manhattan's elite Wedding Belles. Unfortunately, her first client demands an opulent black-tie affair at the Plaza…in five months' time. Heather's days quickly become a flurry of cake tastings, dress-fittings, RSVP cards, and bridal tantrums. But what she's really losing sleep over is the live music blaring from her playboy neighbor's apartment all night.
Five years ago, Josh Tanner was an up-and-comer on Wall Street, complete with the penthouse and the migraines. But a grim cancer diagnosis made him realize there is more to life than the corner office. If only he could convince his pretty, workaholic neighbor to let loose, too. As Heather lets down her guard, Josh is surprised when he starts falling for the sweet, vulnerable woman hiding beneath those power suits. Soon, it's Heather's turn to convince Josh to take the biggest risk of all: love.
Guess what came out recently? You have guess it, a new book in The Wedding Belles series! Lauren Layne has created another fantastic romance book in The Wedding Belles series that you will love this one even more! It has so much romance and comedy that you will enjoy every minute of it.
For Better or Worse is the second book in The Wedding Belles series. You will get to know about Heather Fowler that you will want to know how she fall. Heather Fowler is a beautiful woman that she has wonderful talent in wedding planner that she gets a recent promotion in head wedding planner. But she will face her biggest client that she needs to be in her A game without no distraction at all but there is a big distraction and sexy one too, her next door neighbor, Josh Tanner.
Josh Tanner is sexy neighbor that I have no problem with it. Josh loves to live in the moment that he has no rules in his life anymore. He has recovered from a severe disease that he knows life is short that he wants to appreciate everything in life. And he makes his duty in helping his uptight neighbor, Heather to live a life.
Those two is definitely opposite from each other that you know they have hot chemistry between them. They have so much fire between them that it is only going to take a matter in time for them to fall. And boy do they. They fall hard with each other that it is unexpected for them. They definitely do get scary from their feelings for each other that they will fight over it but they will reunited with each other since they are meant for each other.
For Better or Worse is the perfect romance book that anyone can read since it has so much heart-warming moments that you want your own Josh or Heather in your life. Five stars!